My mum, sister and I have decided that we will make a recipe out of the current Donna Hay magazine each week. We take turns to choose what we are all going to cook. Last week was the first round and my sister chose Roasted Green Chicken Curry. I hadn't heard of roasting a curry before but I gave it a go and I was really impressed. The chicken was cooked beautifully - so juicy and tender and the flavours were all there. The only thing I would do differently in future would be to add a bit more chilli - just needed a bit more of a kick for me.
Next time I make it I think I'll make a double batch of the curry paste so that it is ready and on hand for if I ever want to make the curry. Making the paste was probably the most time consuming part of this dish so to have some stored in the fridge, would mean an easy but beautiful week day dinner.
Roasted Green Chicken Curry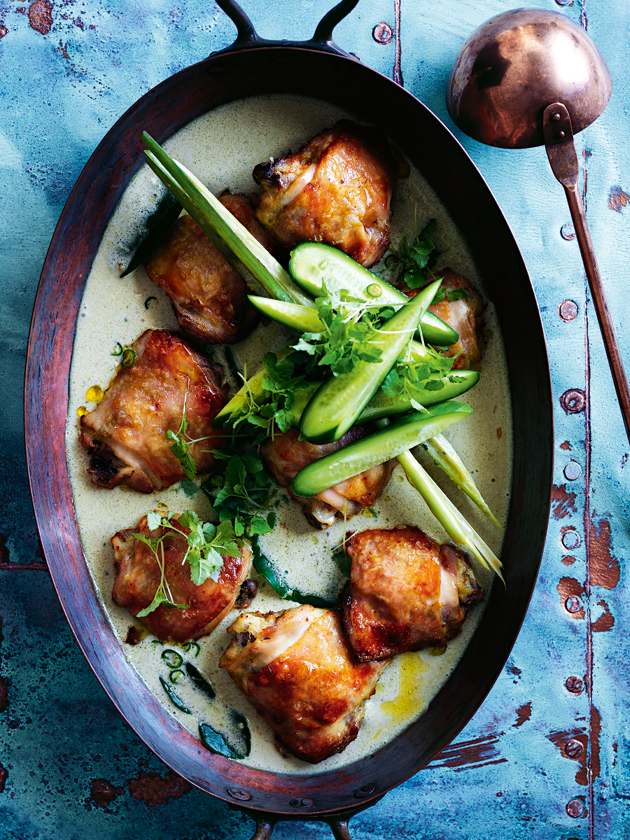 1 x 400ml can coconut milk
2 tbs fish sauce
1 tbs finely chopped palm sugar
4 Kaffir lime leaves
1 stalk lemongrass, bruised
8 x 220g bone in chicken thighs, skin on and trimmed
Sea Salt flakes
2 tbs lime juice
sliced baby cucumbers and baby herbs, to serve
Green Curry Paste
2 tbs coriander seeds
1 tsp cumin seeds
1/4 tsp white peppercorns
3 long green chillies, roughly chopped
2 eschalots (french shallots), roughly chopped
4 cloves garlic, roughly chopped
2cm piece (10g) fresh turmeric, peeled and roughly chopped
2 tbs coriander root, chopped
6cm piece (30g) fresh galangal, peeled and roughly chopped
4 kaffir lime leaves, shredded
1 stalk lemongrass, white part only, sliced
1/2 tsp shrimp paste
2 tbs peanut oil
Method
To make the green curry paste, heat a small frying pan over medium heat. Add the coriander seeds, cumin seeds and peppercorns and toast, shaking the pan frequently, for 2–3 minutes or until fragrant and light golden. Place in a small food processor and process until ground. Add the chilli, eschalot, garlic, turmeric, coriander root, galangal, lime leaves, lemongrass, shrimp paste and oil and process, scraping down the sides of the bowl, until smooth. Makes 1 cup (250ml).
Preheat oven to 180°C (350°F). Place the curry paste, coconut milk, fish sauce, sugar, lime leaves and lemongrass in a deep-sided medium baking tray and mix to combine. Rub the chicken with salt and place, skin-side up, in the baking tray. Cover with aluminium foil and roast for 1 hour. Increase the temperature to 200°C (400°), remove the foil and roast for a further 35–40 minutes or until the chicken is cooked through and the skin is crispy. Use a metal spoon to skim any fat from the surface of the sauce and stir through the lime juice. Top with the cucumber and baby herbs to serve. Serves 4